Depression Symptoms Reversed with Controversial Supplement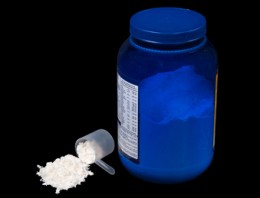 A new study shows that women with major depressive disorder may benefit from taking the popular body-building supplement, creatine. The study showed that women who took creatine in addition to their SSRI (selective serotonin reuptake inhibitor) antidepressant medications responded twice as fast and experienced remission of their depression symptoms at twice the rate as women who took antidepressants alone.[1]
But, don't head out and purchase that gallon of muscle formula just yet! As expounded below, there can be hidden health dangers associated with the use of certain muscle-building supplements. If you're looking to beat the blues, make sure you don't get more than you bargained for! 
What is Creatine?
Creatine is an amino acid that is found in red meat and fish. It is also naturally made in the body. Creatine is produced in the liver, kidneys and pancreas from other amino acids (L-arginine, L-glycine and L-methionine) and converted into creatine phosphate (phosphocreatine). Approximately 95% of creatine is stored in muscles and used for energy in the form of ATP (adenosine triphosphate); therefore, creatine can provide a boost of energy for short periods of vigorous activity and it enables body-builders to improve their strength and lean muscle mass. Creatine has also been utilized for people who suffer from muscle-wasting diseases such as muscular dystrophy, congestive heart failure, and Parkinson's secondary to its ability to increase muscle mass.
How Does Creatine Help Reduce Depression Symptoms?
While 95% of creatine is stored inside skeletal muscles, the other 5% is stored in the brain, heart and testes. The creatine stored in the brain helps boost the production of neurotransmitters, such as dopamine and serotonin. Dopamine and serotonin deficiency are known causes of depression so taking creatine helps relieve depression symptoms.
The Dangers of Creatine
Creatine consumed in very high doses can produce side effects including dehydration, dizziness, stomach cramps, nausea, diarrhea, high blood pressure and muscle cramping. However, the truth is that research demonstrates taking creatine for short periods of time (less than 6 months) at normal doses is safe for most people if it is taken alone without any other additives.[2]
The biggest danger with creatine supplementation is that some oral creatine is mixed in popular and highly marketed body-building products that contain dangerous ingredients. While these body-building supplements do contain some amount of creatine, they may also be comprised of harmful chemicals including stimulants (like Ephedra or Ma Huang) and steroid-like products. The FDA has warned that some products labeled and marketed as "body-building supplements" may actually be unapproved and misbranded drugs that are extremely dangerous to health. Side effects with use of these stimulants and steroid-like products include liver injury, stroke, kidney failure, male infertility, breast enlargement and pulmonary embolism (block of artery in the lung). Furthermore, there is some concern that these supplements are metabolized in the body to formaldehyde, a toxic waste by-product which can potentially damage cells and blood vessels.
Precautions:
If you or a loved one decide to try creatine to boost energy, enhance athletic performance, or decrease depression symptoms, it is extremely important that you choose a high quality, pharmaceutical-grade creatine that is not mixed with stimulants or steroid-like products. Also, always follow the dosing instructions provided by the manufacturer. If you're not sure about an ingredient, don't purchase the product without consulting a physician or health practitioner first to make sure it is safe.
Creatine causes muscles to draw water from the rest of the body so you have to drink extra water when taking the supplement.
People with kidney disease, liver disease and pregnant or breastfeeding women should not take creatine.
Creatine may alter the activities of insulin so people with diabetes or hypoglycemia (low blood sugar) should not take the supplement.
Don't take creatine if you are taking prescription medications without consulting your physician.
Additional Natural Remedies for Depression:
There are alternatives that help increase production of dopamine and serotonin without the hazards associated with creatine "body-building" supplements. For example, the amino acid tyrosine is a natural dopamine booster and the supplement 5-HTP naturally boosts serotonin production (click here to learn more about 5-HTP). However, depression can also be caused by factors other than reduced serotonin or dopamine in the brain. Some of these factors include adrenal fatigue, thyroid disease, hormone imbalances, hypoglycemia, lack of sufficient sunlight, and exposure to mold. That's why it is important to identify the root cause of your depression before purchasing a supplement.
---
[2] University of Maryland Medical Center.