Are the Antidepressant Side Effects Worth the Risks? 20 Crucial Questions to Ask your Doctor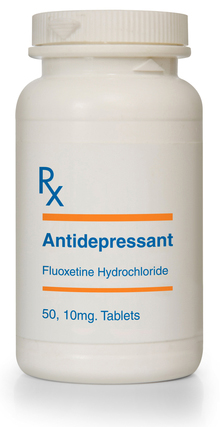 In part 1 of this article, we discussed the risk of deletrious antidepressant side effects in mothers and their newborn babies. Now, we'll explore whether these antidepressant side effects are worth the risks. Ultimately, it is something every patient and their doctor need to decide, and it begins by having an open and honest discussion.
Government Study on Antidepressants
While many mental health experts will argue that medication can be helpful when depression is severe, antidepressants do fall short for many people. A major U.S. government study released in 2006 showed that fewer than 50 percent of people become symptom-free on antidepressants, even after trying two different medications. Dorothy M. Neddermeyer, PhD writes:
Did you know thirty-five million dollars of your taxes was spent to fund the largest trial of its kind on antidepressants? On March 23, 2006, The Washington Post reported the results of this study: "…antidepressants fail to cure the symptoms of major depression in half of all patients, even if they received the best possible care." Furthermore, "…a significant number of patients continue to experience symptoms such as sadness, low energy, and hopelessness after intensive treatment, even as about an equal number report an end to such problems–a result that quickly lent itself to interpretations that the glass was neither half empty or half full."[1]
FDA Warnings about Antidepressant Side Effects
Repeatedly, the FDA (Food and Drug Administration) has issued warnings regarding the antidepressant side effects for pregnant women and their newborns:
On December 8, 2005, the FDA issued a public health advisory regarding Paxil®: "The labeling for paroxetine (Paxil®) was recently changed to add information about findings in an epidemiology study suggesting that exposure to the drug in the first trimester of pregnancy may be associated with an increased risk of cardiac birth defects."
On July 19, 2006, the FDA issued a public health advisory regarding the risk of persistent pulmonary hypertension in newborns (PPHN). "PPHN was six times more common in babies whose mothers took an SSRI antidepressant after the 20th week of the pregnancy compared to babies whose mothers did not take an antidepressant."
But unfortunately, the risks of antidepressant side effects have also been downplayed:
On December 14, 2011, the FDA updated their warnings about PPHN when they issued a safety announcement: "FDA has reviewed the additional new study results and has concluded that, given the conflicting results from different studies, it is premature to reach any conclusion about a possible link between SSRI use in pregnancy and PPHN… At this time, FDA advises health care professionals not to alter their current clinical practice of treating depression during pregnancy."[2]
The FDA assigned a grade "C" for most SSRIs regarding their safety during pregnancy. Class "C" medications are linked with birth defects in animal studies, but they have not been proven safe or unsafe in humans. According to the FDA, "Potential benefits may warrant use of the drug in pregnant women despite potential risks."
Every woman of child-bearing age should ask their doctor these crucial questions.
Despite their class C grade, should pregnant women or women who are planning to become pregnant take these drugs? That is the million dollar question and one that every woman of childbearing age should ask!  The best thing any woman can do is to gather as much information as possible about any medication before she begins taking it.
Here are a few questions you can ask your doctor to determine if taking an antidepressant is right for you:
How much mental health care training have you had?
What percentage of your patients take medications only (not combined with any other therapies) to treat their depression?
Are there any medical conditions that could be causing my depression?
Is my depression severe enough to justify drug treatment?
Can I pursue a trial of natural, non-drug treatments before beginning this medication?
How have you made the decision about which specific antidepressant drug I should take?
What are the side effects and risks of the antidepressant you are recommending – diabetes, sexual side effects, weight gain, etc.? Are there ways to minimize these side effects? Have any FDA warnings been issued about this drug?
Is it safe to become pregnant while taking this medication?
How long will it take before I see results from this medication?
How do you define "successful" drug therapy?
What kind of track records in terms of effectiveness does this medication have?
Are there any foods, drinks or other substances (vitamins, herbs, supplements) I need to avoid while taking this medication?
How will this drug interact with other prescriptions I'm taking?
How do you monitor this medication?  Are there specific tests you will run to monitor the results such as blood tests?
How long will I have to take this medication?
How will I know when it's time to stop taking this medication or if the dose will need to be changed?
Will my depression return when I stop taking medication?
Is this antidepressant addictive? Will withdrawing from this drug be difficult?
Are there non-drug treatments that might help my depression such as therapy/counseling, exercise, self-help strategies, etc.?
Are there any supplements or herbal remedies you recommend to help with depression?
How to Protect Mother and Baby from the Antidepressant Side Effects
Given the disturbing data regarding drastically increased rates of birth defects in newborns exposed to SSRI drugs while in the womb as well as the increased risk of miscarriages, women of childbearing age are being encouraged by integrative physicians to find non-drug therapies to overcome their depression. Our 149-page Comprehensive Guide, Natural Remedies for Depression: Beating Depression Without Drugs, is our most thorough and complete resource on this subject. Our Guide provides the full picture on the major underlying root causes of depression and how to beat depression naturally with 20 life-saving techniques.
*Never start, discontinue or change the dose of a medication without speaking with your doctor or a qualified healthcare professional. One should never stop taking antidepressants abruptly and without the guidance of their personal physician.
---