The Best Supplements for Joint Pain, Part 1: The Top 5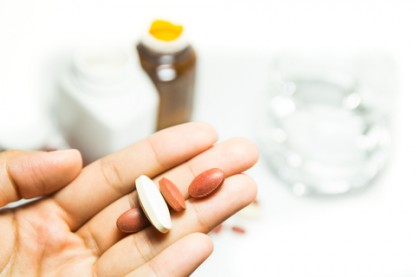 If you're one of the millions of Americans suffering from osteoarthritis, you've likely wondered about the best supplements for joint pain. Based on hundreds of studies, the following supplements are the most thoroughly researched and promising natural remedies to manage the pain from osteoarthritis and other joint diseases. Many of these natural ingredients also improve joint function—decreasing stiffness and increasing range of motion—and some have even been shown to help heal and rebuild worn-out joints.
The current availability of safe, effective natural supplements for joint pain is fortunate, especially since conventional drug treatment of osteoarthritis with nonsteroidal anti-inflammatory drugs (NSAIDs) and other anti-inflammatories and analgesics is strictly focused on symptomatic pain relief.[1] Not only do NSAIDs fail to heal damaged joints, these drugs may cause life-threatening heart or circulation problems such as heart attack or stroke, and may also cause serious problems in the stomach or intestines, including bleeding or perforation. 
SAM-e
SAM-e (S-Adenosyl-Methionine) is a naturally occurring molecule located in virtually every tissue of your body and is involved in many important processes. When taken as a supplement, SAM-e has anti-inflammatory and pain-relieving properties that can help protect the health of your joints and reduce joint pain and other osteoarthritis symptoms. In fact, many double-blind trials have shown that SAM-e reduces osteoarthritis pain, stiffness, and swelling just as well as conventional drugs such as ibuprofen and naproxen.[2,3]
Researchers from the University of Maryland reviewed six clinical conducted a meta-analysis of randomized controlled trials to assess the safety and efficacy of SAM-e for pain and functional limitations in patients with osteoarthritis.[2] "SAM-e appears to be as effective as NSAIDs in reducing pain and improving functional limitation in patients with OA without the adverse effects often associated with NSAID therapies," the study authors concluded. Researchers from the UK also critically reviewed SAM-e and found "consistent evidence" of its effectiveness in osteoarthritis treatment.[3]
Most double-blind trials used 1,200 mg of SAM-e per day, although a few have used 600 mg per day and still noted benefit.
Boswellia Extract
Frankincense (Boswellia serrata) isn't just used for its fragrance. The medicinal properties of this resinous extract have been prized for millennia and have been shown in recent studies to effectively treat joint pain when taken as a supplement. The main medicinal compounds in boswellia extract are boswellic acids, most importantly acetyl-11-keto-beta-boswellic acid (AKBA), which has anti-inflammatory effects and is known to target many of the body's different inflammation pathways.[4] Modern extracts of boswellia are standardized to AKBA content with the most effective extracts containing 20% to 30% AKBA.
A systematic review of data from randomized clinical trials showed that boswellia extracts are safe and clinically effective in rheumatoid arthritis, osteoarthritis, and some inflammatory diseases.[5] That review was published in 2006. Since then, additional randomized, double-blind clinical trials have been completed, confirming boswellia extract's efficacy for treating the joint pain of osteoarthritis.[6-8]
Dosages in these trials ranged from 100 mg to 250 mg per day of boswellia extract standardized to 20% to 30% AKBA. For a 30% extract, these doses would deliver 33 mg or 75 mg of AKBA, respectively.
Three more of the best supplements for joint pain
Additional supplements for joint pain that have shown clinical benefit in small, published, human clinical trials include:
Vitamin D. Healthy joint cartilage depends of vitamin D, and low vitamin D levels are associated with worsening of joint degeneration in osteoarthritis. A recent randomized controlled trial compared vitamin D and placebo in people with knee osteoarthritis who also had low levels of vitamin D (25[OH]D less than20 ng/mL [50 nmol/L]).[9] Vitamin D significantly decreased knee pain and improved knee function compared to placebo. The ideal vitamin D dose will vary depending on existing levels. In cases of low vitamin D, take 5,000 to 10,000 IU of vitamin D3 per day and retest every three months until 25(OH)D levels are optimal (greater than 50 ng/mL [125 nmol/L]), then decrease the dose to maintain optimal levels.
Curcumin (ascurcumin phytosome [Meriva®]). This special formulation is the only curcumin supplement shown to treat joint pain associated with osteoarthritis. The curcumin is complexed with phosphatidylcholine into a phytosome for better absorption. Studies show this form of curcumin has analgesic and anti-inflammatory effects.[10,11]The effective dose is 2000 mg curcumin phytosome (corresponding to 400 mg of curcumin) per day.
Avocado-soybean unsaponofiables (ASU). Derived from avocados and soybeans, ASU is a compound that is used more extensively in Europe than in the United States. It has been studied in clinical trials for both knee and hip osteoarthritis. A meta-analysis of 4 randomized controlled trials found ASU to be significantly more effective than placebo in improving pain and joint function.[12] In two of the four studies, ASU also improved joint structure. The effective dose is 300 mg per day.
Considerations when taking supplements for joint pain
Chronic joint pain can be disabling and can significantly decrease your ability to enjoy and participate in life. Chronic pain in general has been found to stress the body in multiple ways, which then accelerates aging and leads to an increased risk of other chronic diseases. SAM-e, boswellia extract, vitamin D, curcumin phytosome, and ASU are five of the best supplements for joint pain. In addition to vitamin D, try one of the other four compounds.
If you try any of these supplements for your aching joints, remember that the benefits of natural compounds typically take longer to actualize than they would for a pharmaceutical. This is particularly true for many joint health supplements, since joint tissue is especially slow to respond and heal. While it's best to give whatever joint supplement you decide to try at least three months of consistent use before making any decisions about its effectiveness, keep in mind that boswellia extract and curcumin phytosome are more likely to have a faster onset of action in terms of pain relief, so starting with one or both of these may ease your pain more quickly. In addition to boswellia and curcumin, taking a daily vitamin D supplement and making sure your vitamin D levels are optimal is recommended whether you have joint pain or not since vitamin D is vitally important in so many bodily functions.
Share Your Experiences
Please share your experiences with these or other natural treatments for joint pain in the comments section below. What have you tried and how has it worked? What made you look into natural alternatives for joint pain? Are there other natural modalities that you would like us to report on? Please share below, visit us on Facebook, or follow us on Twitter.
Continue reading part 2 to learn more about glucosamine, chondroitin, and methylsulfonylmethane (MSM), and to read the surprising results of a just-published glucosamine/chondroitin study on knee osteoarthritis.

Originally published in 2014 and updated.