Osteoporosis Guidelines for Postmenopausal Women
Having a "midlife crisis" for women can be an upsetting and scary experience. But there is hope! By utilizing the following osteoporosis guidelines, women can also enjoy vigor and vitality without experiencing the insufferable postmenopausal symptoms.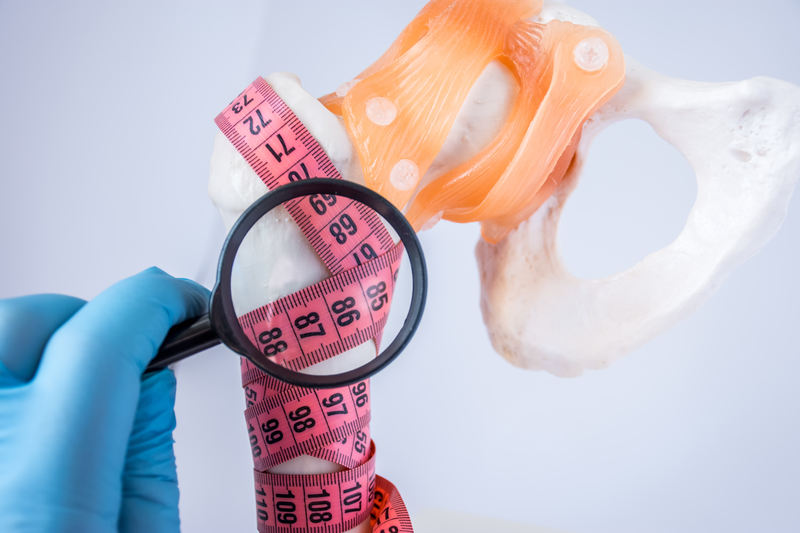 © Ivan Shidlovski | Dreamstime.com
Culture allows men to have midlife crises where they buy a new motorcycle or sports car, but for women, the term "midlife crisis" brings visions of hot flashes, weight gain, dry skin, low sex drive and irritability. Aside from theses unpleasantries, women in their 50's also have an increased risk of developing osteoporosis. Let's face it – having a "midlife crisis" for women can be an upsetting and scary experience. But fortunately, there is hope! By utilizing the following osteoporosis guidelines, women can also enjoy vigor and vitality without experiencing the insufferable postmenopausal symptoms.
Osteoporosis and Postmenopausal Women
Osteoporosis occurs in 1 out of 5 American women over the age of 50 and about half of all women over the age of 50 will have a fracture of the hip, wrist, or vertebra (bones of the spine).[1]  Why? One of the primary causes of osteoporosis is hormonal imbalances that interfere with bone forming cells. Since estrogen naturally preserves bone strength, postmenopausal women are at an extremely high risk for bone loss because estrogen levels in the body decline after menopause.
How Do I Know If I'm Postmenopausal?
A woman is considered to be postmenopausal when she has not had her period for an entire year. It usually occurs between the ages of 45 and 50. Women who have undergone a total hysterectomy are also considered postmenopausal.
You can undergo a blood test to measure follicle stimulating hormone (FSH) level to determine if you are postmenopausal. FSH is a hormone produced by the pituitary gland (located at the base of the brain). While your FSH level can indicate whether you are approaching menopause, it will not predict when menopause will occur.
What Can I Do to Protect My Bone Health and Reduce Postmenopausal Symptoms?
For women, the word "midlife" doesn't have to be so terrifying. There are natural remedies for osteoporosis that can also help with the horrid postmenopausal symptoms. Specifically, hormone therapy is useful in preventing the increased rate of bone loss that leads to osteoporosis and it alleviates those unwanted postmenopausal symptoms such as hot flashes and dry skin.
Synthetic Versus Bioidentical Hormone Replacement
Conventional hormone replacement therapy (HRT) involves the use of synthetic hormones that are created in a laboratory. Examples of these products include Premarin©, Prempro© and Provera©.  While synthetic HRT may help to stave off bone loss, its use is controversial due to the side effects including increased risk of developing certain cancers (particularly breast cancer) as well as gallbladder disease, blots clots, stroke and high blood pressure.[2]
Bioidentical hormones are derived from naturally-occurring sources, such as yams, and are designed to replicate the same exact molecular structure as the hormones that are produced naturally the body. Before beginning bioidentical hormone replacement, your physician will test your hormone levels (hormone panel). This is one advantage of using bioidentical hormones because they are specifically designed to match your individual hormonal needs. When warranted, a precise dosage of bioidentical estrogens, progesterone, testosterone, and/or DHEA (dehydroepiandrosterone, a steroid hormone produced by the adrenal glands) is prepared according to your doctor's prescription at a compounding pharmacy.
Osteoporosis Guidelines for Women
There are a variety of ways you can protect yourself against osteoporosis aside from hormone replacement. While bioidentical hormones can work wonders, they aren't necessarily the first place to turn when hormonal imbalance is a problem. Women can rebalance their hormones without the use of drugs, and even without hormone replacement in any form. If you are a postmenopausal woman, here are a few alternatives you can try:
Establish a regular exercise program. Exercise makes bones and muscles stronger and helps prevent bone loss. Weight-bearing exercises such as walking or jogging, done three to four times a week, are best for preventing osteoporosis.
Take vitamins and supplements such as calcium and vitamin D to help build strong bones. Whether you choose hormone replacement or not, it is important that you consume these nutrients regularly to protect your bones.
Find out if you're at risk for developing osteoporosis and then get a baseline bone density test.
Schedule an appointment with an integrative physician who specializes in hormone replacement therapy to have your hormone levels tested. If you need help finding such a doctor near where you live, our Guide on Osteoporosis Relief: Natural Remedies for Osteoporosis Prevention and Treatment contains resources that will help you in your search. Based on the results of your hormone levels testing, your doctor can individually tailor a bioidentical hormone regimen specifically designed for you. Whether you take synthetic hormones or bioidentical hormones, it is important that you are monitored carefully. If you are taking too much of either form of the hormones, there can be side effects. These include fatigue, weight gain, headaches, mood swings, increased facial hair or hair loss. Maintain regular follow-up appointments and re-test your hormone panels if necessary to ensure you achieve symptom relief at the lowest possible dosage.
---
[1] Speroff L, Fritz MA (2005). Menopause and the perimenopausal transition. In Clinical Gynecologic Endocrinology and Infertility, 7th ed., pp. 621–688. Philadelphia: Lippincott Williams and Wilkins.
[2] North American Menopause Society (2010). Estrogen and progestogen use in postmenopausal women: 2010 position statement of the North American Menopause Society. Menopause, 17(2): 242–255.
[3] "Effectiveness of Compounded Bioidentical Hormone Replacement Therapy: An Observational Cohort Study." BMC Womens Health. June 8, 2011; 11:27.
[4] Christiansen, C, Riis BJ, Nilas L, Rodbro P, "Uncoupling of bone formation and resorption by combined oestrogen and progestagen therapy in postmenopausal osteoporosis," Lancet 12 October 1985:800-801.
[5] Hoskins D, Chilvers CED, et al, "Prevention of bone loss with alendronate iin postmenopausal women under 60 years of age," NEJM 1998; 338:485-492.
[6] Cummings SR, et al, "Endogenous hormones and the risk of hip and vertebral fractures among older women," NEJM, 10 Sept 1998; 339: 733-738.