Managing Arthritis Symptoms: 3 Alternative Options
Dietary supplements, herbals, and antioxidants may aid conventional treatment in managing arthritis symptoms.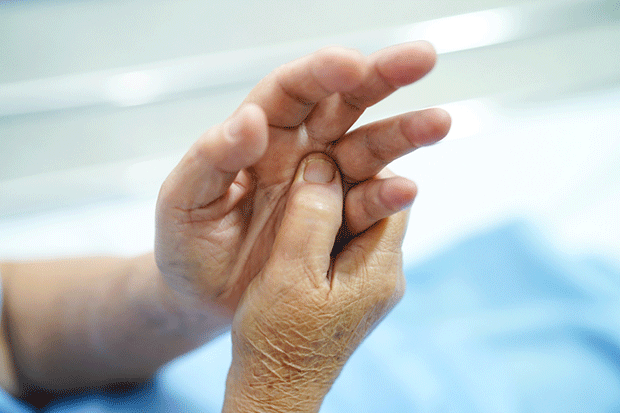 © Chormail | Dreamstime.com
Alternative treatment options can be a good adjunct to medication when it comes to managing arthritis symptoms. Some of the options address physical causes of pain, but don't forget that chronic pain is complicated. In arthritis, tissue inflammation, bone erosion, and nerve impingement can combine to "rewire" your nervous system, making it hypersensitive. This means that the way you perceive and react to pain may become a major factor in how you cope with your disease.
Not only can alternative treatment modalities ease pain, they also can alter the way you experience pain, making you more resilient and reducing the stress that accompanies chronic disease. However, you shouldn't forgo conventional treatment in favor of alternative approaches, particularly in the case of rheumatoid arthritis (RAa).
Dietary Supplements
Glucosamine/Chondroitin
One of the most common supplements used today for managing arthritis symptoms is a combination of glucosamine and chondroitin. The Cochrane Database supports its use, reporting that glucosamine may reduce pain and improve physical function, while chondroitin may improve all pain slightly in the short term, improve knee pain by 20 percent, slightly improve quality of life, and slow down the narrowing of the joint space.
Side effects are rare with glucosamine/chondroitin, but if they occur they may include mild gastrointestinal upset. Glucosamine/chondroitin may interact with NSAIDS and blood thinners, such as warfarin (Coumadin), so check with your doctor about its safety alongside other medications you take. If you are allergic to shellfish, you will need to check the source of the glucosamine, as some brands use lobster shells. Diabetics will need to monitor its effect on blood sugar.
Many clinicians recommend that patients try a three- to six-month trial of glucosamine/chondroitin. The suggested dosage is 1,500 milligrams (mg) per day, taken in three doses.
Fish Oils
Fish oil supplements are popular in managing arthritis symptoms due to claims that they reduce inflammation. Fish oil contains omega-3 fatty acids, including eicosapaentanoic acid (EPA) and docosahexaenoic acid (DHA), both of which have been shown to block inflammatory chemicals. They also lower harmful triglycerides (fats that circulate in the blood), and may reduce the risk of cardiovascular disease.
The National Center for Complementary and Integrative Health (NCCIH), the federal government's lead agency for scientific research on complementary and integrative health approaches, concludes there is some evidence omega-3s from fish oil and seafood may be modestly helpful in relieving RA symptoms.
Fish oils come from fatty fish, such as herring, mackerel, salmon, tuna, halibut, and cod. Health experts recommend that people eat only two to three servings of fish per week due to heavy metal poisoning of the oceans. It is difficult to get enough omega-3 fatty acids in only three portions of fish, so it is recommended that patients with RA take fish oil capsules with at least 30 percent EPA/DHA.
Pregnant women and people taking blood thinners should not take fish oils. Fish oils should be stopped at least five days before any surgery, as they increase the risk of bleeding.
Herbals
Many arthritis patients faced with chronic pain and disability turn to herbal remedies in the hope they will find relief. There often is a lack of convincing evidence as to the efficacy of herbals. However, while scientific research may fail to prove that a herbal remedy works on a population level, it may be effective in an individual. This is a reflection of the fact that our bodies work in unique ways.
Herbal remedies promoted for the management of arthritis symptoms include turmeric, ginger, Chinese thunder god vine, willow bark extract, feverfew, cat's claw, and stinging nettle. These and other herbal remedies contain a complex mix of biologically active ingredients that impact processes in the body and have side effects, interactions, and contraindications, just like pharmaceutical drugs. In fact, many modern medicines have their roots in herbal medicine—for example, today's NSAIDs, including aspirin, began as willow bark tea in ancient Egypt.
Check with your pharmacist or doctor for possible interactions with conventional medications before starting any herbal remedy. As with dietary supplements, the quality of herbal remedies varies, so consider consulting a herbalist for the best chance of getting good herbals.
Antioxidant Vitamins
Antioxidants are substances that prevent or delay cell damage and inflammation due to free radicals: harmful molecules that occur naturally in the body. According to the NCCIH, diets high in fruits and vegetables (which are good sources of antioxidants) have been found to be healthy. However, research has not shown antioxidant supplements to be beneficial at preventing diseases, and there is much evidence that they are effective only when consumed via dietary sources. Popular antioxidant vitamins include vitamins C and D.
Vitamin C is essential for the formation and health of collagen and other connective tissue. The recommended daily amount for vitamin C is 90 grams (g) for men, and 75 g for women. Evidence suggests that taking vitamin C supplements may have a counterproductive effect in OA, and there also is conflicting evidence as to whether it has a protective effect for gout.
Vitamin D is manufactured in the skin with exposure to sunlight, and also can be ingested via fortified cereals, milk and fruit juice, fish, and eggs, or taken as a supplement. The Institute of Medicine recommends people get 600 International Units (IUs) of vitamin D per day, but many experts recommend 800-1,000 IUs. Vitamin D is essential in the metabolism of calcium, but while there is some evidence it may help in osteoporosis, fibromyalgia, and multiple sclerosis, there is conflicting evidence of any benefit in arthritis.
For more information about alternative treatments for managing arthritis symptoms, purchase Arthritis Guide to Diagnosis and Treatment at www.UniversityHealthNews.com.