The Best Natural Deodorant Options Are Free of These 4 Ingredients
There can be many dangerous ingredients in deodorant. To avoid the risk of chemical exposure and skin irritation, find out how to choose the best natural deodorant, and even how to make your own at home.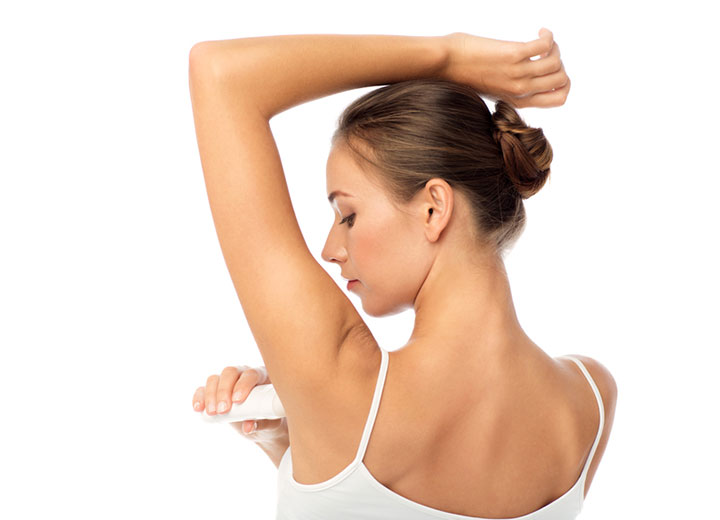 Deodorants and antiperspirants are used by about 90% of the US population to improve body odor and prevent sweating.[1] Most deodorants work to counteract the odor produced by bacteria in skin secretions. Antiperspirants are a specific sub-type of deodorant that block sweat glands, preventing the formation of sweat on the skin. Deodorants and antiperspirants often contain antibacterial agents, fragrances, preservatives, and other chemicals. Whether you have sensitive skin or are looking to decrease your exposure to potentially harmful chemicals, it will benefit you to check ingredient labels for these dangerous ingredients in deodorant. Try to choose best natural deodorant.
Ingredients to Avoid
The list below includes some of the most commonly used ingredients in deodorants and antiperspirants that can have potentially negative health effects and that can irritate your skin. 
1. Aluminum. Aluminum salts are usually the primary active ingredients in antiperspirants, as they block the production of sweat. Several studies have shown that aluminum can penetrate the skin and accumulate in breast tissue, and increase the risk of breast cancer.[2] In Europe, there is a push for reducing levels of this metal in antiperspirants to improve their safety.
2. Phthalates are usually used as suspension agents and are in most fragrances and personal care products. Phthalates are considered endocrine disruptors, as they enhance estrogen activity and block androgen activity. Animal studies have shown that these effects can prolong menstrual cycles and increase premature menopause. Phthalates, even at low concentrations, can increase cell proliferation and increase the growth of breast cancer cells in vitro.[3]
A recent study showed that fragrances, lotions, and deodorants are the primary source of exposure to diethyl phthalate (DEP). While in Europe this ingredient is being phased out of personal care product use, and in Canada it is banned from cosmetics, it is still often included in US products.[4] Unfortunately, phthalates themselves are rarely marked on ingredient lists. Instead, they generally are masked under the vague term "fragrances." Try to avoid products that list fragrance as an ingredient.
3. Parabens are often used as preservatives in deodorants. Studies have confirmed that parabens can be absorbed through the skin from the topical application of cosmetic creams. Parabens are also estrogen disruptors. Studies show that at sufficient concentrations, as can be found in breast tissue,  parabens can lead to increased growth of breast cancer cells.[5]
4. Triclosan. Most deodorants contain antibacterial agents to combat the bacteria that cause bad odors. Triclosan is a common antimicrobial found in deodorants, and its use is not highly regulated.[6] Among the potential health risks associated with the use of tricolosan are antibiotic resistance, skin irritation, endocrine disruptions, allergic responses, increased risk of prostate cancer, and the formation of carcinogenic by-products.[6,7] The effects of triclosan on human health have not yet been well studied; this product should be avoided until safety is better determined. On top of that, a recent study found that antibacterial agents in deodorants and antiperspirants may not always decrease odor, and can in fact make it worse.[1]
Try to find a natural deodorant free of the ingredients listed above. Try brands like Miessence, Dr. Hauschka, and Crystal. Just because a product is labeled, "natural" however, does not mean that it is necessarily safe and free of these products. Be careful reading labels, and remember that the term "fragrances" can mean the product contains a variety of harmful chemicals. If your skin is easily irritated, you should also avoid products with propylene glycol, which can induce irritation or allergic response in some.
Choosing the Best Natural Deodorant
While natural deodorants may not stop you from sweating, they can effectively mask body odor. Besides, sweating is a major route of detoxification for your body, and blocking your sweat glands is likely not a very healthy choice. Your body needs to sweat, so let it. You can still control odor using natural ingredients. Reserve the use of antiperspirants for special occasions when you really need them.
Make Your Own Safe Deodorant at Home
If you prefer to know exactly what you are putting onto your skin, why not try making your own deodorant? Simple household ingredients like baking soda and coconut oil can drastically decrease odors and help to create best natural deodorant. Many people that use home recipes swear that they work better than their commercially available counterparts. Plus, they are much cheaper.
Homemade Deodorant Recipe
Ingredients: 6 T coconut oil
¼ C baking soda
¼ C arrowroot powder or cornstarch
Essential oils for fragrance, if desired
You will also need a small glass jar or an old deodorant container
Directions:
Whisk together baking soda and arrowroot/cornstarch.
Briefly heat the coconut oil to soften.
Mix the coconut oil with the dry ingredients until well combined.
Add essential oils if desired
Store in an old deodorant container or a small glass jar
If your house is above 75°F, you may need to refrigerate, as coconut oil melts at temperatures near this.
Adapted from http://wellnessmama.com/1523/natural-deodorant/
---
This article was originally published in 2014 and is regularly updated. 
[1] Arch Dermatol Res. 2014 Jul 31. [Epub ahead of print].
[2] J Trace Elem Med Biol. 2014 Apr;28(2):147-50.
[3] Climacteric. 2014 Aug;17(4):377-84.
[4] Environ Res. 2011 Apr;111(3):329-36.
[5] J Appl Toxicol. 2013 May;33(5):390-8.
[6] J Appl Toxicol. 2011 May;31(4):285-311.