Hangover Recovery Tips for Your Skin
Before you hit that next holiday cocktail party, make sure you have these hangover recovery tips in mind to protect the natural beauty of your skin.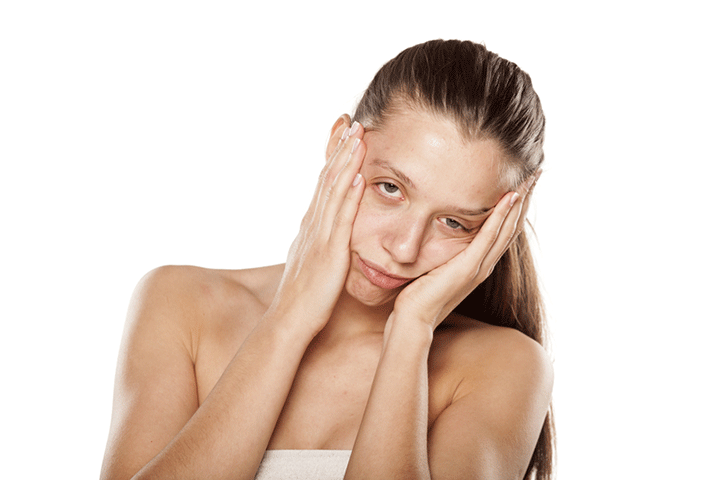 © Vladimirfloyd | Dreamstime.com
As the holiday season rolls into full gear, cocktail parties, happy hours, and long celebratory dinners encourage us to partake in a little extra imbibing of alcoholic beverages. And while a few glasses of wine can make the season a little brighter, they can also lead to a nasty hangover. Aside from nausea, headache, and irritability, a hangover can wreak havoc on your skin. Luckily, we have a solid hangover recovery plan to keep your complexion healthy.
8 Hangover Recovery Tips Your Skin Will Love
To protect redness, dryness, and puffiness from dulling your skin and eyes, here are eight steps you should take both during and after a night of heavy drinking.
Hangover Recovery Tip #1: Drink lots of water.
Heavy drinking almost always results in dehydration, which can cause your face and eyes to appear puffy.  To counteract these symptoms, you should have one glass of water for every alcoholic beverage you consume.
"Drink even more water before you go to bed to flush the alcohol out of your system, so you wake up less dehydrated, puffy, and flushed," Dr. Stanley Poulos, a San Francisco-based board-certified plastic surgeon, said.
Staying hydrated during and after drinking alcohol can also counteract the headaches and fatigue that can accompany a hangover.
Hangover Recovery Tip #2: Grab a cup of coffee too.
ALCOHOL'S LONG-TERM EFFECTS ON YOUR SKIN
According to Los Angeles-based dermatologist Dr. Harold Lancer, it can take up to 30 days for your skin to recover from a hangover.
"Think about it, someone who has been on birth control pills is not usually totally hormonally static for three to six months after coming off them," Dr. Lancer told The Telegraph. "So, when you have a hormonal jolt caused by a sugar fest—let's say at a pizza party—there's salt, dairy, carbohydrates and alcohol. It will take about 30 days for that to naturally calm down."
And, according to Alcohol.org.nz, if you're a chronic heavy drinker, you're at risk of developing a skin condition called rosacea, which causes redness and bumps, or more seriously, liver disease or failure, which can cause yellowing of the skin, decreased body hair, and spider veins.
The caffeine in coffee can help restrict your blood vessels, which, according to Dr. Poulos, can "make the area around your eyes look puffy and bloated." Eye cream containing caffeine can also help if you're not a coffee drinker.
Hangover Recovery Tip #3: Apply something cold to your face.
Combat the swelling and puffiness in your face and eyes by placing some ice cubes in a hand towel and rubbing them over your face. Dr. Poulos also recommends using a cold teaspoon or soaked tea bag over your eyes to further deflate puffiness and reduce redness.
Hangover Recovery Tip #4: Keep your head propped up while sleeping.
One of the best ways to reduce eye and face puffiness is by keep your head slightly propped up on two pillows, Dr. Poulos says.
Hangover Recovery Tip #5: Wash and moisturize your face before going to bed.
Before hitting the hay after a long night of drinking, don't forget to wash your face thoroughly to avoid clogged pores, which can lead to acne. Follow up with a hydrating moisturizer.
Hangover Recovery Tip #6: Try a yogurt facial mask.
Dr. Poulos recommends applying plain yogurt to your face as a mask, which can naturally reduce inflammation and soothe redness. Leave it on for five to 10 minutes before rinsing.
Hangover Recovery Tip #7: Take a bath in Epsom salts.
If you're up for a bath, take a lukewarm one with Epsom salts to improve circulation and decrease inflammation, according to LiveStrong.com.
Hangover Recovery Tip #8: Cover up what you can't fix.
If your face is still looking red, Dr. Poulos recommends using a green-tinted primer to neutralize redness followed by a lightweight foundation. Be careful, though, because overapplying foundation can make your puffy skin and eyes look worse. Also, avoid powder, which can dry out your skin.
HOW ALCOHOLIC BEVERAGES AFFECT YOUR SKIN
Depending on how they're fermented and distilled, certain types of alcohol can be worse for your skin than others, Dr. Isabel Sharkar, a naturopathic doctor, told Popsugar.com:
WORST:
Red wine. Because it's unfiltered, your body has to work harder to process it. Plus, it contains a histamine releaser, which can lead to redness and flushing.
Cocktails. They're loaded with too much sugar (and sometimes salt), which can lead to inflammation.
BETTER:
White wine. It contains both salt and sugar, but less than cocktails.
Beer. It does contain salt, however, it has less alcohol than spirits. People also tend to drink it slower than cocktails.
BEST:
Clear, distilled spirits such as gin, tequila, and vodka. They contain the least amount of additives and move through your body the quickest.
For related reading, visit these posts: