DIM Supplements Provide Estrogen Dominance Relief, Cancer Prevention, and More
DIM supplements are often used for breast, uterine and colorectal cancer prevention, but can also help with PMS and menopause symptoms.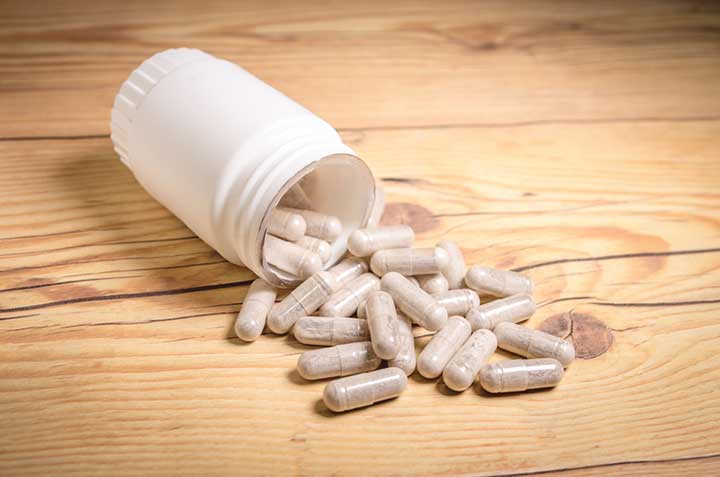 © Dionell Datiles | Dreamstime.com
Do you struggle with unexplained weight gain, PMS symptoms, fatigue, or acne? Have you ever thought it may be related to estrogen dominance? Estrogen dominance happens when the levels of estrogen in your body exceed the level of progesterone. Taking a DIM supplement can help regulate estrogen dominance.
What Is DIM?
One of the supplements used for estrogen dominance is diindolylmethane, or DIM, which is a natural plant-based chemical found in many cruciferous vegetables. The effects of cruciferous vegetables, such as cabbage, broccoli, and Brussels sprouts, are being studied as a treatment for cancer.[1] DIM works to create a healthy balance of estrogen and testosterone in your body and is available in capsules or tablets.
Let's take a closer look at the benefits of DIM.
DIM Supplement Benefits
Anti-cancer properties. DIM may help control or stop cancer cells from forming and spreading, according to research. DIM may be effective specifically in preventing breast or prostate cancer. [6]
Viral infection. Human papillomavirus, or HPV, causes multiple disorders, such as cervical cancer or lung cancer. DIM can help reduce the symptoms of HPV and possibly stop the growth of the virus. [3]
Estrogen. DIM helps to restore a better ratio of "good" estrogens and "bad" estrogens. It also helps to encourage production of gentler estrogen and leads to a better balance of natural estrogen in your body. [4]
IS EATING CRUCIFEROUS VEGGIES BETTER THAN TAKING DIM SUPPLEMENTS?
It's important to consume a balanced diet of fruit and vegetables, but keep in mind that cooking your veggies can negatively alter DIM compounds. DIM supplements are also a better source of diindolylmethane because they come in a higher dosage than what you'll typically get in a meal containing cruciferous vegetables.
Weight loss. DIM increases the amount of lipolysis, which is responsible for fat burning and weight maintenance. When your hormones are balanced, your metabolism will be higher, which results in less fat stored in your body. [10]
Anti-inflammatory effects. It helps to activate an enzyme called activated protein kinase, or AMPK. AMPK promotes the breakdown of glucose for energy, it assists in the delivery of oxygen and acts as an antioxidant. [4,5]
Acne. Many adult women suffer from hormonal acne. An excess of estrogen in the body can lead to other hormones, like androgen, rising to balance it out, thus, leading to to acne. If you reduce the level of estrogen, you can reduce androgen and help lower the risk of acne outbreaks. [9]
Menopause symptoms. Estrogen deficiency is a common symptom of menopause. DIM supplements will not increase the level of estrogen, but they can help metabolize estrogen. Healthy level of estrogen can help with hot flashes or night sweats.[4]
DIM Supplement Warnings
DIM is not recommended for pregnant or breastfeeding women, for children, or for cancer patients. DIM can possibly worsen hormone-sensitive conditions (such as breast, uterine, or ovarian cancer). It also isn't recommended for those with kidney disease. If you have a hormone-related condition, make sure to discuss DIM with your doctor, because it can sometimes block estrogen activity. Taking larger doses can be unsafe; possible side effects of using DIM supplements include headaches and nausea.[6,8]
More warnings to consider:
Before taking a DIM supplement, make sure to consult with your physician and follow instructions, being careful not to take more than the recommended dose.
If you take any prescription medications, make sure there are no adverse effects. Keep in mind that not all natural products are safe.
Share Your Experience
Do you suffer from estrogen dominance? Have you ever try taking DIM supplement? Share your experience in the comments section below.
DID YOU KNOW?
In order to get just 10 to 30 mg of DIM, you will have to consume one-and-a-half pounds of cruciferous vegetables. The dosage recommended by experts is between 100 and 200 mg. The following symptoms may be clues that you have estrogen dominance symptoms and could benefit from DIM supplements [7]:
Breast tenderness
Irregular periods
---
This article was originally published in 2018. It is regularly updated. 
[1] https://newswire.net/newsroom/pr/00102990-dim-is-an-all-natural-and-therapeutic-remedy-against-estrogen-dominance.html
[2] https://www.cancersupplements.org/dim
[3] https://www.livestrong.com/article/430364-the-benefits-of-a-dim-supplement/
[4] http://blog.optimumhealthvitamins.com/help-in-a-flash-dim-diindolylmethane-can-really-cool-things-down
[5] https://www.wonderlabs.com/blog/what-is-ampk-and-what-does-it-do
[6] https://nootriment.com/dim-side-effects
[7] https://natural-fertility-info.com/estrogen-dominance
[8] https://www.livestrong.com/article/323870-the-side-effects-of-diindolylmethane-supplement/
[9] http://mosskincare.com/all-about-estroblock-for-acne/